2021 Incidents
Calls
Jan
17
Feb
22
Mar
12
Apr
17
May
18
Jun
19
Jul
22
Aug
12
Sep
24
Oct
29
Nov
19
Dec
23
Total
234
Past Call Stats
Fire/Rescue
2020
183
2019
207
2018
201
2017
186
2016
163
2015
191
2014
168
2013
149
2012
150
2011
149
2010
122
2009
168
2008
176
2007
154
Web Counters
Website Visitors
Since
March 9, 2007

Visitors Today
Jan 27, 2022

Duplication of text, photos, or any other content on this website is prohibited without permission of sfc31.com. If you have questions, please contact us at Info@sfc31.com
Protecting the Citizens and Visitors of Sadsbury Township Since 1918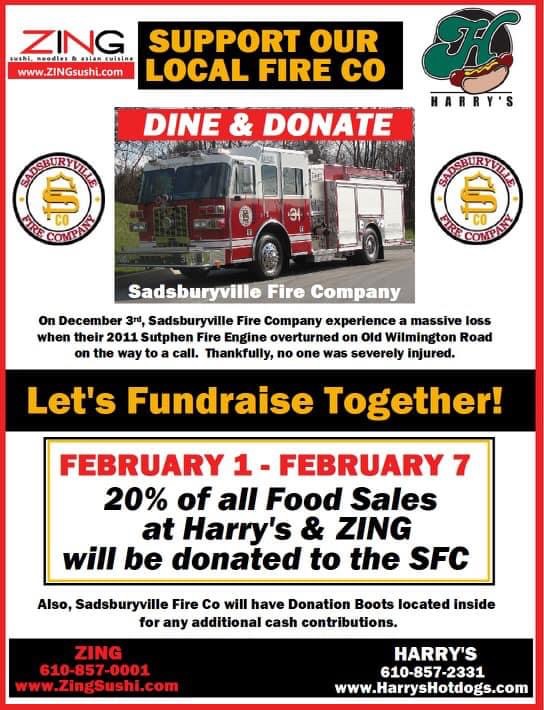 House Fire on Lincoln Highway, Valley Township

Sadsburyville Fire/Rescue, December 20

On Monday December 20th, 2021 at 2009 hours the Sadsburyville Fire Company was dispatched to the 700 block of W Lincoln Highway in Valley Township for a house on fire. This call was assisting the Westwood Fire Company and the Wagontown Fire Company was also on the response.

Chief Grossman arrived with a 2.5 story residential twin with smoke showing and established the Lincoln Highway Command.

Engine ... (Full Story & Photos)

Outbuilding Fire in West Sadsbury

Sadsburyville Fire/Rescue, December 15

On Wednesday December 15th, 2021 at 0721 hours the SFC was dispatched to assist Station 08 on an outbuilding fire in the 6100 block of Limeville Road in West Sadsbury Township. Engine 31-2 with a crew of 4 assisted at the scene for just under an hour before being released. Crews arrived to find an outbuilding well involved in flames and immediately began fire suppression efforts. ... (Full Story & Photos)


Thank you!

Sadsburyville Fire/Rescue, December 14

The officers and members of the Sadsburyville Fire Company would like to say thank you for your support over the last two weeks.

Since our fire engine being in an accident nearly two weeks ago, we have had an outpouring of support from our community and mutual aid partners. We have received several donations by mail and through the "make a donation" PayPal link on our website.

In the coming months ... (Full Story & Photos)



Reserve Engine 31-1 is equipped primarily for rescue calls but will also respond to any type of incident carrying water and fire hoses as well.


Christmas Dinner and Member Recognition

Sadsburyville Fire/Rescue, December 13

On Monday December 13th, 2021, the Sadsburyville Fire Company members gathered for their monthly meeting. Tonight we also held an appreciation dinner for our volunteers and all the work they do throughout the year. This year's meal was entirely donated by Harry's the Neighborhood Place in Sadsburyville. Thank you so much for your continued generosity and support!

Also in attendance were Daryl, Daniel ... (Full Story & Photos)

Weekend Training and Box Alarm, Truck Goes

Sadsburyville Fire/Rescue, December 11

Keystone Valley Fire Department and Sadsburyville Fire Company members attended Combat Ready Virtual Sets and Reps Training at KVFD.

During the class the personnel took in a quick response on Ladder 8.

Thank you to Combat Ready & Floyd Wise for coming into town today to teach great training.

Thank you Keystone Valley for the Truck Ride and hosting this training session. ... (Full Story & Photos)

Annual Coatesville Christmas Parade

Sadsburyville Fire/Rescue, December 04

Saturday December 4th, 2021 was the Annual Coatesville Christmas Parade! Our fire police supported the parade route with traffic and crowd control.

In addition, Engine 31-2 with a crew of 4 was part of the procession with numerous other fire companies and organizations.

Thank you to the volunteers that put on this event for the community every year!... (Full Story & Photos)

Westbound Route 30 Bypass Auto Accident, Sadsbury Township

Sadsburyville Fire/Rescue, November 28

On Sunday, November 28th, 2021 at 1650 hours the Sadsburyville Fire Company and Westwood EMS MICU 144 were dispatched to the 267 mile marker area in Sadsbury Township for an auto accident. The caller to 911 indicated a one vehicle accident that involved the guard rail and the vehicle was blocking the highway.

Rescue-Engine 31-1, Utility 31, Chief 31 and MICU 144 for all made a response within minutes ... (Full Story & Photos)